We do well drilling in Waupaca county. Estimates vary, but, on average, each person uses about 80-100 gallons of water per day, for indoor home uses. The largest use of household water is to flush the toilet, and after that, to take showers and baths. Other uses such as washing your vehicles or watering the lawn can add to your water flow needs. Do you need a new well?
Do you also need a septic system? Ask us about a well and septic package deal to help you save money on your project. In addition to well drilling in Waupaca, we can install your septic system too.
Our residential wells are percussion drilled with 6 inch steel casing. A 6 inch well has the potential to produce over 500 gallons per minute, however, the pump that is capable of pumping that volume, will not physically fit into a 6 inch diameter well. Therefore, the maximum amount of water a 6 inch well can produce, within the limits of the pump size, would be 180 gallons per minute. Residential wells require a lot less flow and do not need the additional permitting required by high capacity wells. A well and pump providing a water flow rate between 5 and 20 GPM can adequately serve a typical home.
Pro Tip
Test your well water in Waupaca once a year. Water quality can change with various land uses, such as septic systems, barnyards or fertilized fields. Even if your water looks, tastes and smells good, it can contain harmful bacteria and viruses. Testing annually is a good idea.
The Federal Safe Drinking Water Act (SDWA) standards apply to all water systems providing water for human consumption to the general public. This may include residences without a private well, as well as places of business that have their own well(s). All of our drilled wells include a well water test once the well is completely installed. This ensures that you and your family have safe, clean water for your home and pets.
Well Drilling – Waupaca Area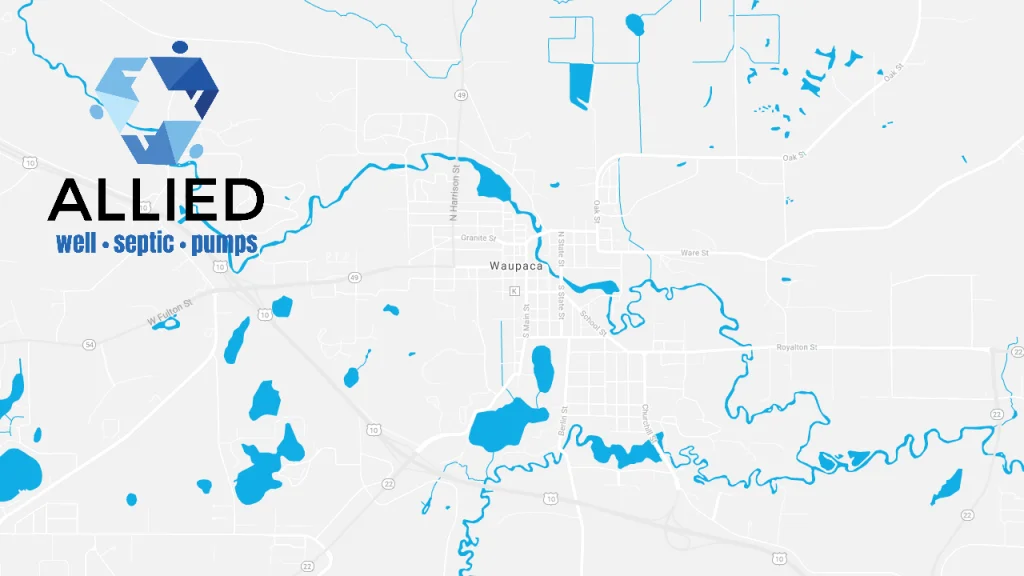 Other Areas Served
We also provide well drilling service to surrounding areas, including but not limited to, Manawa, Weyauwega, King, Rural, Little Hope, Cobb Town and Sheridan. If you are unsure we provide service to your area, please give us a call. If you are we may be able to recommend another well drilling contractor in your area.
Frequently Asked Questions
Why Is My Faucet Sputtering water?
If you turn on a sink faucet and water sputters (or spits out), it means there's air in the system. This usually a sign of a malfunctioning pump, or a break or crack in the water pipe above the pump. To confidently diagnose and fix these problems, the well pump has to be pulled.
Why Does My Water Smell Weird?
Sometimes hardware issues, like old corroded plumbing pipes, can cause water to taste or smell off. But usually the culprits are water-based. Wells can suddenly be contaminated with harmless bacteria, silt and sand, and decaying organic waste that comes from the soil above. These can create off tastes and odors that are annoying but not always dangerous. To know how serious these issues are, the water needs to be tested by a state-certified lab.
Why Is My Well Water Cloudy?
Cloudy well water may indicate a sinking water table or a pump that's pulling from shallow water where the percentage of silt and sand is higher.
Why Did My Electric Bill Go Up?
If your power usage for a month is abnormally high and there is not an obvious reason for it, it is possible that your have a well pump that's running all the time. This can happen when the pump malfunctions, the water is low, and/or the pressure switch (mounted on the storage tank) needs adjustment or replacement.