We do well abandonment, well filling and sealing in Waupaca, Waushara, Portage and surrounding counties. Abandoned or unused wells pose a contamination threat to Wisconsin's groundwater, including nearby water wells. An unused well provides a direct path for contaminants and pollutants to enter the underground aquifers that supply working wells.
The proper abandonment of a private well involves more than no longer using the well or simply covering the well casing and ignoring it. Technically, the term well abandonment refers to the filling and sealing of an unused well with an approved, impermeable material such as bentonite chips, concrete, or neat cement.
As of June 1, 2008, only licensed well drillers and pump installers are authorized for well filling and sealing under Wisconsin law.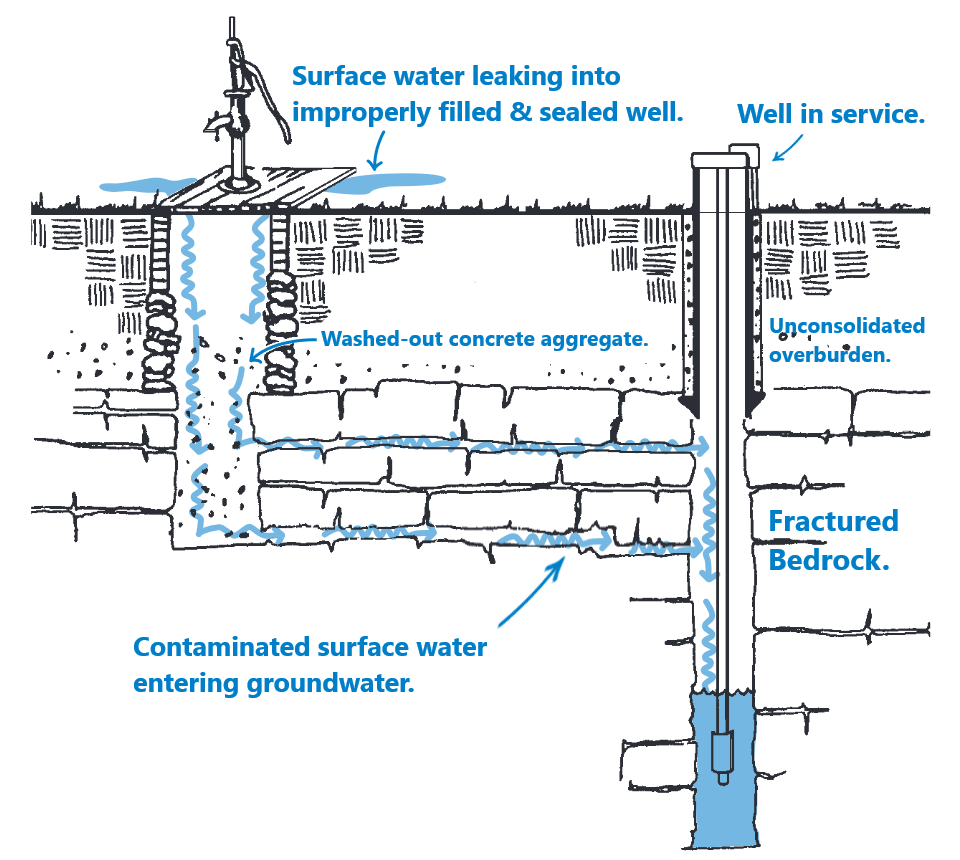 You Should Know

If you have or find a well that is not in use or is a threat to groundwater, the owner of that well is required to properly seal the well under Wisconsin Administrative Code NR 812.26. If you have an unused water well or bore hole on your property it is also a good idea to have your water tested for contamination.
Unused Wells Are A Health And Safety Risk
In a recent example in Wisconsin, a house burned down over an improperly filled and sealed well located in the basement. The well provided a point of entrance into the aquifer and allowed ash-laden water to contaminate the neighbor's well.
In another example, a buried well having only a stone set on the top of the open casing caused severe contamination of the drinking water pumped from another well on the same property. The unused well was near both an animal yard and a sewage absorption field and thus provided direct access for the entrance of contamination into the groundwater.
After a well gets covered, it is very difficult, if not impossible, to find it and determine if it's causing contamination. When new wells are constructed in an area with improperly filled and sealed wells, they may have to be cased much deeper or to alternate aquifers to provide safe water.
Well Abandonment Criteria
NR 812.26 (2) Criteria for well abandonment states that the owner shall permanently abandon a well or drill hole under the following conditions:
The well is contaminated with bacteriological, viral or parasitic with 2 attempts of batch chlorination treatment fails.
The well poses a hazard to health or safety.
The well construction or location does not comply with the minimum standards of NR 812.
The well has been taken out of service and has not been used for 15 or more months.
Frequently Asked Questions
What does it cost to properly abandon a private well?
The cost of a well abandonment depends on a number of factors; the primary ones being depth of the well and whether the pump is present and needs to be pulled. A "typical" abandonment costs between $800 to $1500 dollars but may be more or less depending on the well depth and ease with which the pump can be removed. Well drillers typically charge by the foot so deeper wells are more expensive to abandon than shallow well filling and sealing.
Is any financial assistance available to help pay for the well abandonment?
Financial assistance may be available through the Department of Natural Resources (DNR). The DNR offers a limited number of grants to help pay for the abandonment of unused private wells. Applicants must not exceed income thresholds to qualify. In addition, you must apply for the grant AND have an approval letter in hand before any work is completed. More information is available on the DNR website or by contacting DNR staff at (608) 266-5472 or (608) 267-9350.
Must I report the well filling and sealing to the DNR?
Yes. When groundwater contamination investigations are undertaken, it's important to know the location of active, unused and former wells. Further, this information is important documentation for property transfers. Well Filling and Sealing Reports must be used to report how the well was filled and sealed and document that the well no longer exists. The licensed person performing the well filling and sealing work must complete and submit the form online.