Allied Well, Septic & Pump provides well drilling services to central Wisconsin, including Waupaca county and surrounding areas. Our calendar fills in quickly so if you have an upcoming project you may want to book early. Call us for a free quote!
Do you also need a septic system? Ask us about a well and septic package deal to help you save money on your project.
Our wells are drilled with 6 inch steel casing to meet your home or business needs. This paired with a properly sized submersible well pump will provide the water flow required. Ask us about constant pressure systems which provide city-like water pressure from private wells.
Well Drilling – Areas Served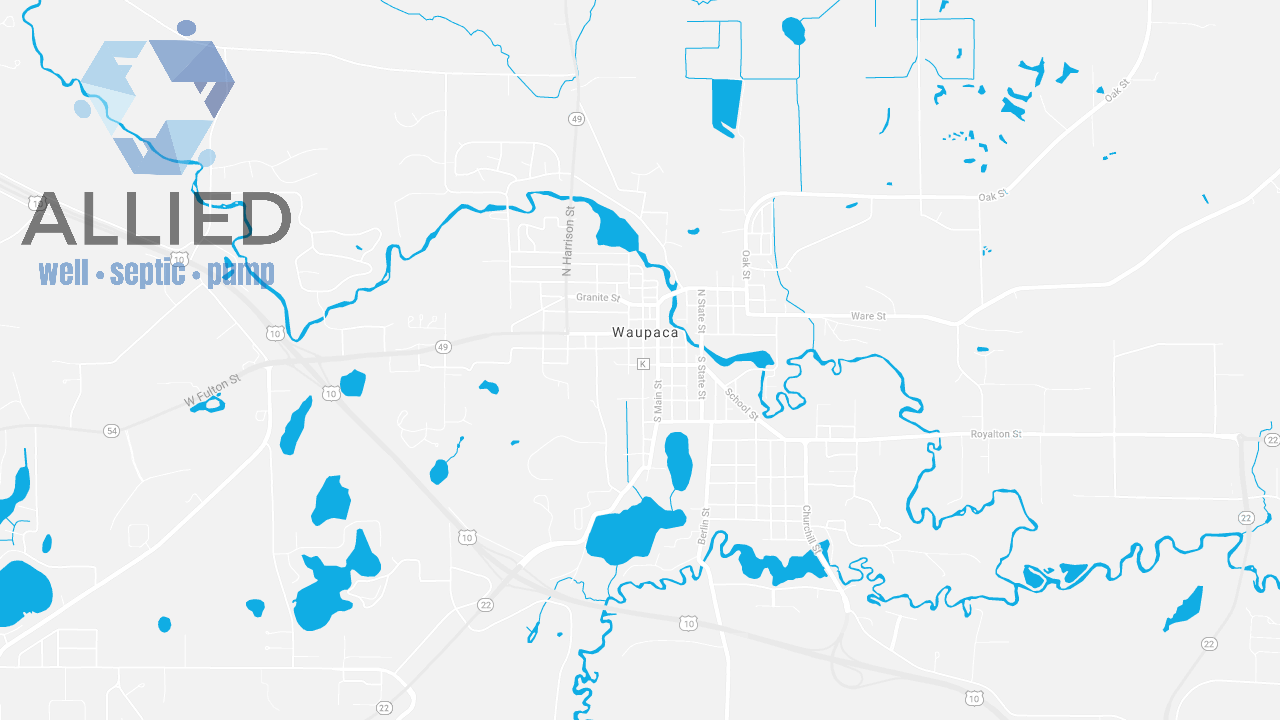 Waupaca County
Do you need a new well drilled? We are capable of providing 6 inch drilled wells at competitive prices. All prices include the submersible pump, stainless steel screen, pitless adapter and everything else needed for a complete water delivery system to your home or business.
Well Drilling in Scandinavia, WI.
Well Drilling in Ogdensburg, WI.
Well Drilling in Royalton, WI.
Well Drilling in Fremont, WI.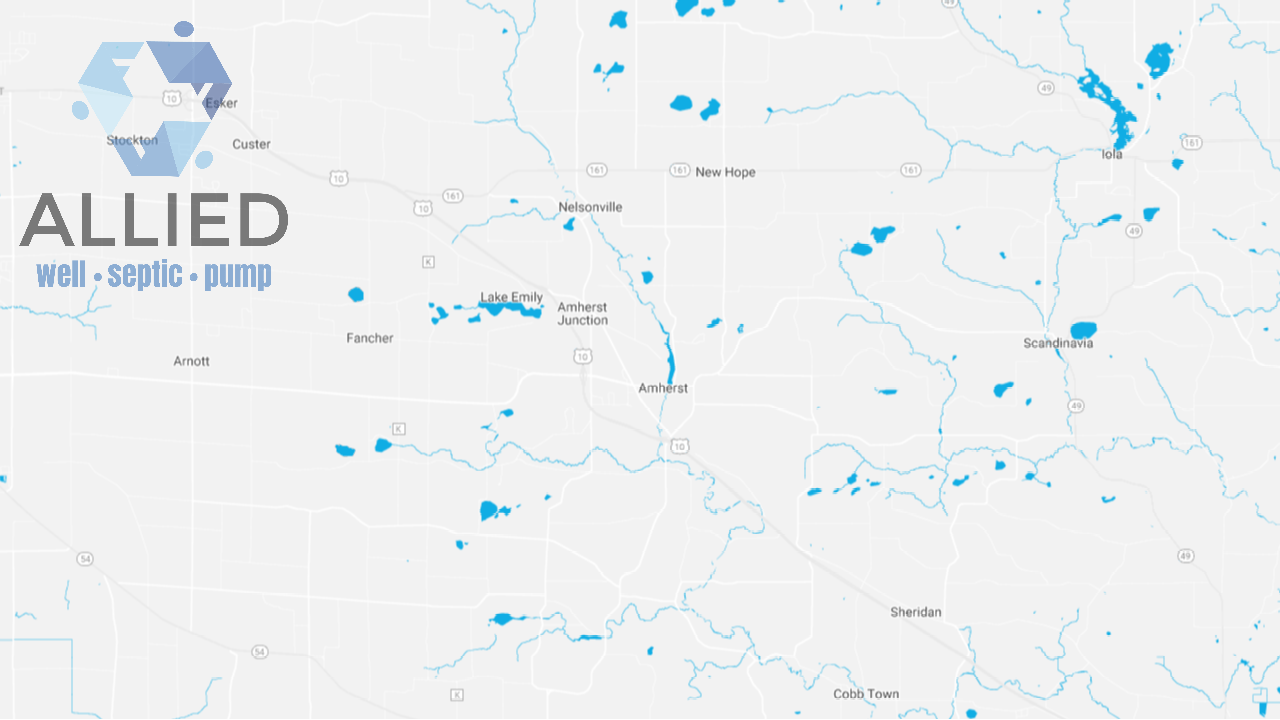 Portage County
Please consider us for your next well drilling project. Our wells are competitively priced and include all required well components to provide your home or business with fresh, clean water.
Well Drilling in Rosholt, WI.
Well Drilling in Nelsonville, WI.
Well Drilling in Almond, WI.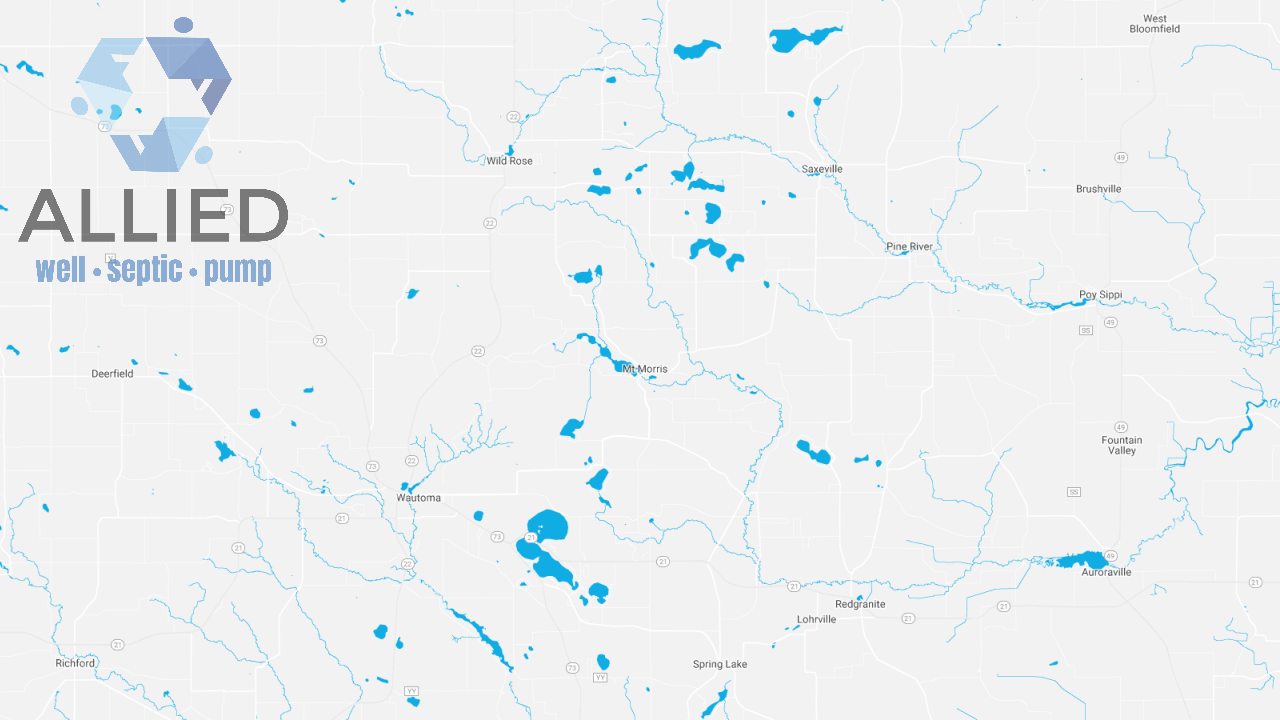 Waushara County
Does your home need a new well? We have the tools and equipment necessary to make your well project a success. From the pump to the pressure tank, we have it covered.
Well Drilling in West Bloomfield, WI.
Well Drilling in Wild Rose, WI.
Well Drilling in Wautoma, WI.
Frequently Asked Questions
How much does a well cost to drill in Wisconsin?
Residential water wells can vary in cost, from $5,000 to $16,000 or more, depending on what is needed. The depth of the well, size and type of pump used and distance from well to home will affect the overall cost.
Is it legal to drill your own well in Wisconsin?
If you are constructing a driven point well or constructing a well on a property owned or leased by you, then the answer is no. State law requires, however, that no matter who does the work, it must comply with the state Well and Pump Code, and a Well Construction Report must be submitted to the DNR.
How deep does a well need to be in Wisconsin?
The well casing pipe, not including the screen, must extend to at least a 25 foot depth or to at least 10 feet below the static water level, whichever is the greater depth. This requirement is the same for driven point and drilled wells. For drinking water, deeper is better. This allows for more natural ground filtration to take place which removes impurities.
How deep is my well in Wisconsin?
This information will be available in the Well Construction Report for your well. The report will indicate the drill-hole depth and the casing depth. If you can not find a Well Construction Report for your well, you can hire a licensed well professional to inspect the water supply system and measure the well depth for you.
Why Does My Water have a Metallic Taste?
When the level of iron in water exceeds the 0.3 mg/l limit, we experience red, brown, or yellow staining of laundry, glassware, dishes, and household fixtures such as bathtubs and sinks. The water may also have a metallic taste and an offensive odor. There can be other reasons for a metallic taste so please do have your water tested.