We provide installation of septic systems in Waupaca, WI. Residents located in areas without public sewer access must maintain their own septic systems. A septic system is similar to waste water treatment plants found in towns and cities across Wisconsin. They are both designed to remove nutrients, pathogens, and chemicals from the used water before it enters our groundwater, lakes and streams. Do you need a new septic system or replacement?
Do you also need a well? Ask us about a well and septic package deal to help you save money on your project.
Properly functioning septic systems in Waupaca helps protect your well water from being contaminated by waste water. A septic system's life span can be increased with some basic preventative measures.
Conserve water by using low-flow fixtures and repairing leaks.
Do not dump paints, medications or chemicals down the drain.
Minimize use of antibacterial soaps, bleach and harsh cleaners/detergents.
Keep food, grease, lint, plastics and feminine hygiene products out of your system.
Pro Tip
If freezing is an issue for your septic system, place a layer of mulch (8-12 inches) over the pipes, tank and soil treatment system to provide extra insulation. This is particularly important if you have had a new system installed late in the year and no vegetative cover has been established. If your system is currently frozen, ignore this step, as it will delay thawing come spring. Septic systems in Waupaca may need such additional protection.
Septic Systems – Waupaca Area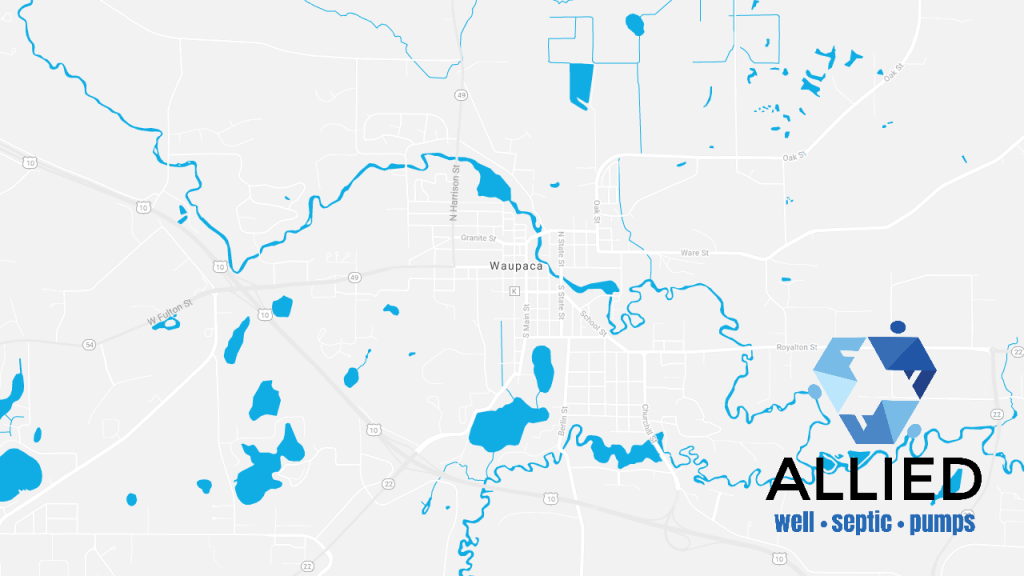 Septic Systems – Other Areas Served
We provide new and replacement septic systems in Waupaca and surrounding areas, including Amherst, Iola, Manawa, Royalton and Weyauwega. As dictated by Wisconsin's Statutes, we are fully licensed and capable of designing and installing your septic system.
You Should Know
The Wisconsin Fund is a program that provides grants to homeowners and small commercial businesses to help offset a portion of the cost for the repair, rehabilitation, or replacement of existing failing Private Onsite Wastewater Treatment Systems (POWTS). Eligibility is based upon several criteria, including household income and age of the structure. This fund may cover septic systems in Waupaca.
Small septic systems in Waupaca for the underground disposal of domestic wastewater are regulated by the Department of Safety and Professional Services (DSPS), unless that wastewater is discharged in a way that may reach surface water, in which case the design will likely also require review and approval by the DNR.
Wastewater systems for the underground disposal of domestic wastewater are regulated by the DNR if they have a design flow rate of greater than or equal to 12,000 gallons per day or an actual flow rate of greater than or equal to 8,000 gallons per day.
Frequently Asked Questions
Can my manhole covers be buried?
Wisconsin code allows you to have buried covers as long as they are within 6 inches of the surface. Covers that have a filter or pump beneath them cannot be buried.
How do I know if I will need a mound or a conventional (in-ground) septic system?
A soil test is required to determine what type of septic system is needed and the design criteria of each system. Once a soil test has been completed, your contractor will know what type, size, and location of system you need.
Why do some manhole covers have chains and locks and others do not?
Per Wisconsin code, if a manhole is going to be exposed above ground it MUST be locked.
What causes failure of a mound or septic system.
Most mound and septic systems fail due to accumulation of waterborne solids that seal off the pores of the soil. Once the soil is completely sealed off and doesn't take water, the wastewater follows the path of least resistance, which could be up to the ground surface or back into the house or building and is considered a failed system.