Your sewer lateral, often called a sewer line, is the pipe connecting the plumbing of a home or business to the city's sanitary sewer system. These pipes typically run underneath the house or business' property before connecting with a larger pipe, called a sewer main, under the street or other nearby area. The sewer line carries all of the waste water from your home to the sewer main, including everything washed down your sink or flushed down your toilet. Sewage entering the sewer main is transported to a treatment facility.
Do you need your lateral replaced in Waupaca, Waushara, Portage county or an adjacent county? Contact us for a free quote.
Sewer Lateral Example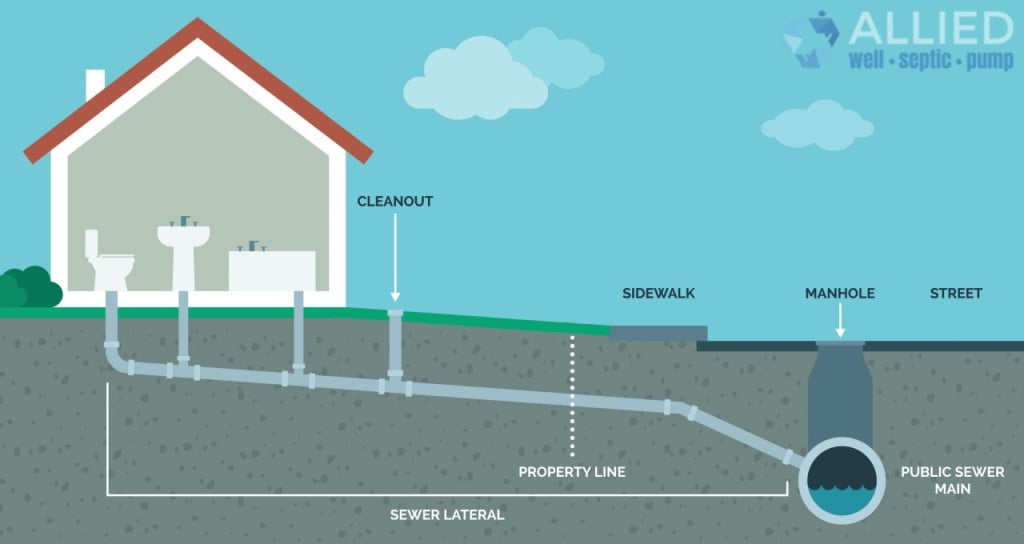 You Should Know

Tree roots are one of the most common problems for laterals. With the slightest crack or pinhole in the pipe wall, roots will gravitate to the water and insert themselves into the lateral. Eventually, the lateral gets blocked, breaks, and must be excavated and repaired or replaced. Hydro-jetting a sewer lateral once every two years is recommended for proper cleaning and maintenance.
Waupaca County Sewer Lateral Repair
We provide lateral repair or replacement in Waupaca county, including but not limited to, Waupaca, King, Iola, Scandinavia, Weyauwega, Manawa, Clintonville and New London. Laterals are often in poor condition, and can have a significant impact on the performance of the sewer system and treatment plant. Cracked or broken laterals can allow groundwater and infiltrating rainwater (clean water) to enter into the sewer system which, at high levels, can cause problems at the treatment facility or overload the sewers and cause sanitary sewer overflows (SSOs).
Waushara County Sewer Lateral Repair
We provide lateral repair or replacement in Waushara county, including but not limited to, Wautoma, Wild Rose, Redgranite, Hancock and Plainfield. As a sewer lateral ages, it becomes more vulnerable to breakage. The average lifetime of a private sewer lateral depends on the material used to construct the pipe. Clay pipes are the most common, but the old-style hub and spigot joints fail, causing the pipeline to break. Today, cast iron is a common sewer lateral material, and should be expected to last about 30-50 years. Another material, high-density polyethylene (HDPE), is now widely used in the industry, as it offers durability, low cost, faster repair, and 100+ years of useful life.
Portage County Sewer Lateral Repair
We provide lateral repair or replacement in Portage county, including but not limited to, Amherst, Rosholt, Plover, Whiting and Stevens Point. There are serious environmental risks associated with broken private sewer laterals. Exfiltration failures cause wastewater to flow out of the pipe and into the ground where it can threaten groundwater. Inflow and infiltration failures are a more common problem, however. This occurs when rainwater and/or groundwater is allowed into the pipe. Excess water can overwhelm a community's sewer treatment system, which causes overflows and backups that force untreated sewage into yards, streets, or nearby bodies of water.
Lateral Facts
All new main lines are made of PVC, polyvinyl chloride, but many older lines are made from cast iron or clay piping.
Cast-iron pipes are notorious for rusting out underground and being very prone to clogging.
Clay pipes last much longer than cast iron, but are much more fragile and prone to roots. Over time, large gaps form between the different sections of clay (or terra cotta) pipes, because they are fitted together, not glued or threaded. Trees can grow on the side of a mountain, so if there are any gaps in the pipes, roots will find their way in.
PVC pipes have become the gold standard for sewer laterals. PVC has been used since the 1970s and is not going anywhere soon. It never rusts, is sturdy, and is completely watertight. Tree roots can penetrate PVC pipes, but it is far less likely than with clay or cast iron.