We do well drilling in Redgranite, WI. On average, each person uses from 80 to 100 gallons of water per day for home use. A home's toilet accounts for most of that use, followed by showers and baths. Do you require well drilling in Redgranite? Our wells are drilled with 6 inch steel casing and are capable of providing your family 5 to 20 gallons per minute of water flow when paired with a properly sized well pump. Higher and lower flow rates are possible, depending on location conditions when well drilling in Redgranite.
Do you also need a septic system? Ask us about a well and septic package deal to help you save money on your project.
You Should Know

If your well water is yellow or red colored it is often a good indication that iron is present. However, laboratory testing can tell you the exact amount of iron. This can be useful in deciding on the best type of treatment. In addition to testing for iron, it can be helpful to test for hardness, pH, alkalinity, and iron bacteria. Water with an iron level above 0.3 milligrams per liter (mg/L) is usually considered objectionable. Iron levels are usually below 10 mg/L in water. There are filtration systems capable of reducing iron levels but you may also need well drilling in Redgranite.
Well Drilling – Redgranite Area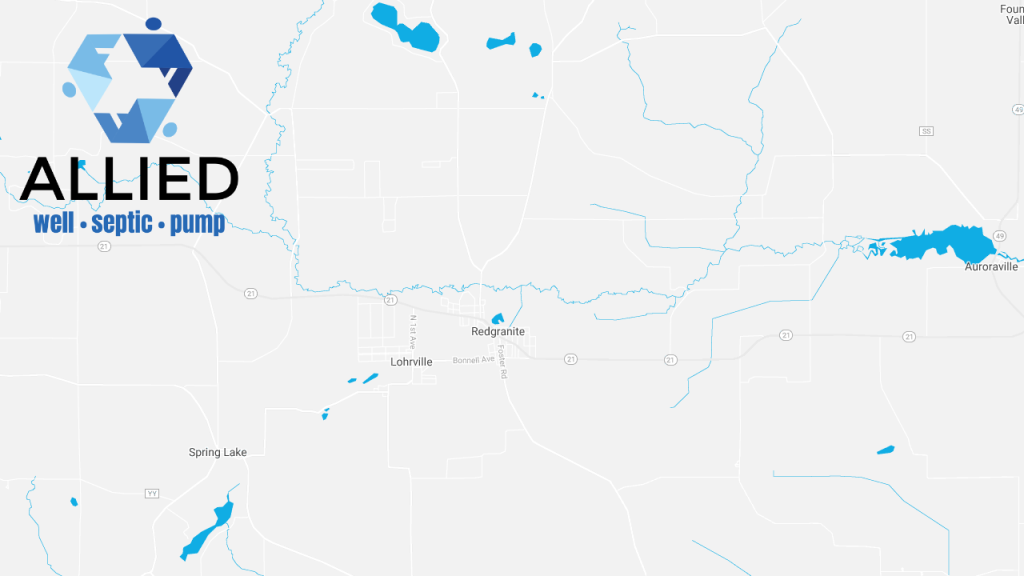 Other Areas Served
Along with well drilling in Redgranite, we also provide well drilling services to surrounding Waushara county areas, including but not limited to, Auroraville, Wautoma, Wild Rose, West Bloomfield and Waupaca, WI.
Pro Tip

When you are buying or selling a property with a private well, you may be interested to know the condition of the well, the quality of the drinking water and whether there are any unused wells on the property. If so, you can choose to have the well and pressure system inspected, have the water tested for common contaminants and have the property searched for unused wells. Give us a call for a professional well water inspection or if you need well drilling in Redgranite.
Frequently Asked Questions
Why Does My Laundry Have Yellow And Brown Stains?
Water that contains high levels of iron can leave clothes with yellow, red, or brown spots, cause white clothes to become yellow, and leave all fabrics feeling stiff.
Why Does My Well Water Appear Cloudy?
This may be a hard water issue with excess calcium and magnesium carbonate in your groundwater. Although hardness is a nuisance because it causes decreased efficiency of water heaters and can shorten the life of water using appliances it is not considered a health issue. As always, you should have your well water tested to know for sure what is in it.
Why Does My Water Stain Plumbing Fixtures Blue Or Blue-Green?
This is likely a problem with copper in your water supply. Copper is not usually found in the groundwater that feeds your well. Copper may enter your drinking water as it travels through your plumbing system. This is also a possible health concern, if levels are very high. Copper is a necessary mineral for good health, though there is a primary drinking water standard for copper because long-term exposure to elevated levels in drinking water can cause gastrointestinal symptoms as well as kidney and liver damage. Consider having your water tested to be sure it is safe to drink.
Why Does My Water Leave Slime In The Toilet Tank?
This may indicate an iron bacteria problem. Iron bacteria live off iron in the water. They are a nuisance, but not a threat to your health. There is no drinking water standard for iron bacteria. Iron may present some concern if harmful bacteria have entered a well. Some harmful organisms require iron to grow. If there is iron in the water, it may be harder to get rid of harmful bacteria.