We provide well drilling in Iola, WI. In the typical household, each person uses between 80 to 100 gallons of water, per day. The largest water use is for flushing toilets, followed by taking baths and showers. Does your well provide the water you require?
Do you also need a septic system? Ask us about a well and septic package deal to help you save money on your project.
Our well drilling in Iola is done with 6 inch steel casing. Such a drilled wells are capable of providing your family 5 to 20 gallons per minute of water flow when paired with a properly sized submersible pump. Higher flow rates can also be obtained but will be dependent on and vary between locations. If you own horses or other livestock, operate a farm or other such business, then you most likely need higher flow rates. You may also be interested in a constant pressure system for well drilling in Iola.
Pro Tip
A faucet that spits and sputters air while running may be a sign that there is a leak in your well system or that your well pump needs to be lower in your well to provide adequate draw down volume. Water tables can become lower at times with high flow usages such as irrigation of fields. Your pump may need to be lower in your current well or you may need a deeper well drilled to compensate for the fluctuation.
Well Drilling – Iola Area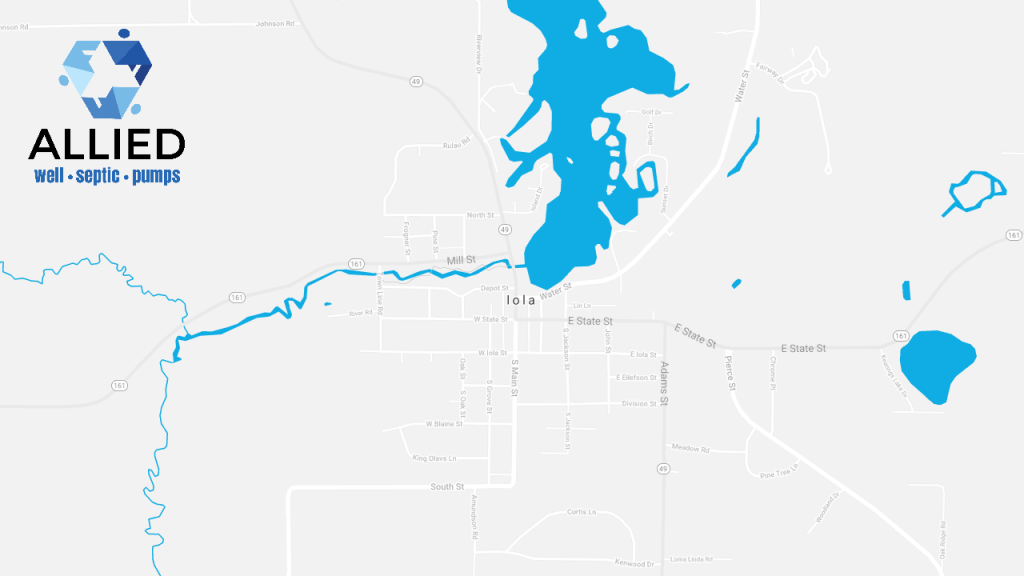 Well Drilling – Other Areas Served
We also provide well drilling service to surrounding areas, including but not limited to, Northland, Nelsonville, Amherst, Waupaca, Scandinavia and Ogdensburg, WI.
You Should Know

Nearly 900,000 households in Wisconsin rely on private wells as their primary water supply. We encourage homeowners with private wells to have them tested on a regular basis to determine the safety of the water supply for purposes such as drinking and cooking. The Center for Watershed Science and Education provides an interactive Well Water Quality Viewer that was created as an educational tool to help people better understand Wisconsin's groundwater resources. The viewer relies mostly on voluntarily submitted well water samples from homeowners and other well water data collected by state agencies over the past 25 years.
Frequently Asked Questions
Why Does My Water Feel Sandy Or Gritty?
This could be a sign of sand or silt from an improperly developed well; an increase in pumpage; a sandstone well with a sloughing formation; or screen failure due to excessive incrustation. Although not a health concern, silt and sand is a nuisance because it can shorten the life of water using appliances and damage your well pump.
Why Does My Water Appear To Have An Oily Or Rainbow Sheen?
There are a few different issues that could cause this. This could be caused by iron bacteria that live off of iron in the water. Is there slime on the walls of the toilet tank? Is there evidence of iron in your water; for example, red stains on plumbing fixtures or on laundry?
This can also be caused by sulfur bacteria. Sometimes odors are more noticeable after a period of low water use. There are two types of bacteria: sulfur-oxidizing and sulfur-reducing. Hydrogen sulfide gas (produced by sulfur-reducing bacteria) is highly corrosive and can damage plumbing connections, metal piping and well casing. Some sulfur bacteria form deposits that can clog a well screen and pump piping.
Another possible cause is from fuel oil or diesel fuel contamination. You should have your well water tested to be safe.
Why Does My Water Stain The Laundry Red Or Brown?
This can be a sign of iron being present in your water. Iron is a necessary mineral for human health but it can be a nuisance. Iron can be reduced with specialized filtration.